---

IS YOUR DEBIT CARD WORKING???

Is your debit card working? If not, it could be due to unusual activity or suspected fraud. Since we have changed to a new debit card processor, they do not show your purchase history to be able to detect fraud or not at this point. When our system detects potential fraud on your debit card, you will receive an automatic email notification from us with the option to reply "fraud" or reply "no fraud" using the hyperlinks within the email. One minute after the email, you will receive a text alert from 328-74 between 7am and 9pm (CST) which also has the "fraud" or "no fraud" reply option. If no response is received from you within 5 minutes after the text alert, you will receive an automatic phone call between 8am-9pm (CST), asking you to confirm or deny fraud.

If we are unable to reach you, it is likely that your card will be blocked to prevent the potential for further fraud.
IT IS VERY IMPORTANT FOR YOU TO RESPOND TO THE TEXT OR EMAIL AS SOON AS POSSIBLE!

PLEASE NOTE: YOU WILL NEVER BE ASKED FOR YOUR PIN OR ACCOUNT NUMBER.

Our Bank Fraud Center's phone number is 1-800-417-4592. Please enter this number in your phone so you will know when the Bank Fraud Center is calling you.



---

Debit Card Holders!!!
As some of you know, we are going through a debit card conversion to a new vendor. We really appreciate your patience in this matter. The debit cards have already started being mailed out to all of you ahead of schedule. If you have already received your debit card, please see the attached letter for instructions going forward. Thank you again for your cooperation and your patience.


---
ERCU now has offices located in Lawrenceburg, Pulaski, Waynesboro and Lexington, TN. All branches are open from 8:00 AM to 4:30 PM Monday thru Friday. For phone numbers and locations please see our "Contact Us" page.
---
Be sure and check out the Audio Banking banner on our Home page. You can now call toll free and check your balances, transfer funds, and more!
---

If you have a smart phone and you're already signed up for Home Banking, you can use our convenient Mobile Site to do your banking. Just go to our website from your smart phone and you'll be automatically redirected to the Mobile Banking site.
---
Simply type in our website address (www.ercu.org) from your smart phone and you will automatically be redirected to the Mobile Banking site. Once the Mobile Banking site has fully loaded, select the option to "add to homescreen" from your phone. This will place a "Mobile CU" icon on your phone so that you can easily access ERCU's Mobile Banking with one tap of your finger!
---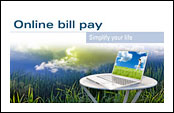 You've been asking for it and now it is here --- Online Bill Pay!!It's a quick, easy and convenient way to pay your bills. How do you sign up for Bill Pay? If you are signed up for Home Banking, just log on to the Home Banking site as usual andselect the link "Pay Bill" to enroll in the Bill Pay Program. If you are not enrolled in Home Banking,stop by or call one of our offices for Instructions. For more information contact ERCU at 766-9288 in Lawrenceburg or 363-9920 in Pulaski. Take control of paying your bills with Bill Pay from ERCU.

Click here for Bill Pay Demo!
---
Tired of paying high interest rates and fees on your current credit card? Then check with ERCU about our VISA Platinum Credit Card program. Interest rates range from 8.99% to 12.99% with Balance Transfers at 4.99% for the first six billing cycles with NO Balance Transfer Fees!Contact us today for more information.
---
Can't decide what to give as a gift? We have the perfect solution to your problem! You can't go wrong with a VISA Gift Card. It's the perfect gift because it let's the recipient decide what they really want, it's prepaid with the amount your select loaded on the card, and comes with the security and protection features you expect from VISA. They are available in amounts from $10.00 to $500.00. Members pay only $2.00 plus the value loaded on the gift card. It's accepted at millions of places including retail and online merchants as well as mail & phone orders. It's a quick, easy and affordable way to take care of your gift giving needs for all occasions. Cards are available at both the Lawrenceburg and Pulaski branches. Check with us for more information.


Click on the banners to learn more!
---
There's never been a better time for credit union members to Invest in America. That's why credit unions have teamed up with U.S. automakers to offer members great discounts on new American-made vehicles.

All eligible current and new credit union members in participating states have the unique opportunity to get a great discount on a new vehicle from either GM or Chrysler. While the discounts vary depending on which vehicle you choose, everyone will drive away with a great deal.

The deal gets even better when you finance your vehicle at with us. Thanks to our lower interest rates, your savings will really add up.

Click on the banners to learn more!
---

ERCU and AIR EVAC LIFETEAM have joined together to offer our members a new benefit. All members of ERCU will now receive a $10.00 discount off the one year membership fee for AIR EVAC. Applications are available and fees can be paid at both the Lawrenceburg and Pulaski locations. For more information, call (931) 766-9288 in Lawrenceburg or (931) 363-9920 in Pulaski.
---

Need a copy of a check that has cleared your account? You can now get these copies from our Home Banking page. Simply double click on the check number found on either the history page or the account detail page and you will be able to view or print both front and back of the check. For more information, please contact our office.